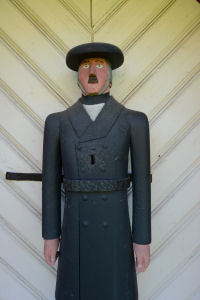 Wooden Pauper in Saloinen.
Picture: Aki Paavola.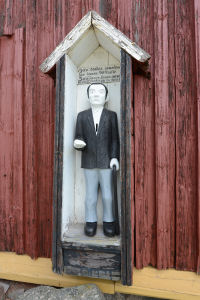 Wooden Pauper in Karvia.
Picture: Aki Paavola.





Wooden Pauper in Särkisalo (the smallist in Finland). Picture: Aki Paavola.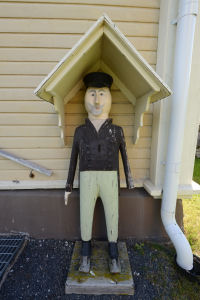 Wooden Pauper in Merijärvi. Picture: Aki Paavola.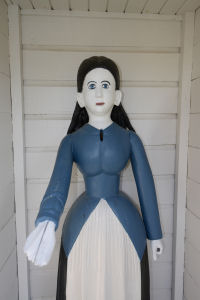 Wooden Pauper (the only female)
in Soini. Picture: Aki Paavola.
The exhibition takes place in the Kerimäki Church, which is the largest wooden church in the world. It brings together an extensive selection of Finnish wooden paupers, including altogether 42 of these showcases of folk art and creativity.

Especially in Ostrobothnia, Central Finland, many churches or bell towers used to be – and some still are – adorned with a human figure carved of wood for collecting money for the parish poor. These pioneers of social welfare often stood under an ornamental shelter and could be accompanied with a catchphrase, such as: "He who has pity on the poor, lends to the Lord."

Most of the paupers are from the 19th century, and many of them were modeled after veterans of the Finnish War (1808–09), waged during the Napoleonic Wars. Bartimaeus of Hauho, presumed to be the oldest wooden pauper, probably dates all the way back to the late 17th century. Wooden paupers are still made on occasion, and a few parishes have had younger paupers join the crew.

Some of the oldest paupers seem to draw from the German tradition of ecclesiastical wood carving, some of the more recent ones have clearly sought their roots from the Ostrobothnian shipbuilding and crafts tradition. The tradition of wooden paupers doesn't appear to exist anywhere else in the world, so we are dealing with a unique phenomenon even on international scale.

There are altogether around 180 known wooden paupers in Finland, of which 145 still remain – one of them a pauperess who works for the Soini parish. Some have disappeared in the course of time, some have gradually become worse for wear and been discarded. Many have been attacked in hopes of loot. Nonetheless, a large number of paupers still remain in service, collecting money for church social and mission work.

The purpose of Pelastakaa vaivaisukot ry (Save the Wooden Paupers), founded in the circuit of Galleria Orton in Helsinki, and of this exhibition, is to bring attention to the significance of wooden paupers, to encourage related research and to also remind that the paupers are an important part of Finland's cultural heritage, and need to be fostered through research, proper care and restoration.

The exhibition also features works by painter Antti Ojala, for whom the paupers have been a longstanding source of inspiration, and photographs by Aki Paavola produced as part of the extensive review of wooden paupers carried out this year.

Location:
61 54 44.8 N, 29 17 4.1 E

Kerimäki Church
Kirkkotie
58200 Kerimäki, Finland

Opening:
25 May 2013, 3 pm.
All guests are welcome.




Events connected with the exhibition:

7 June: Vaivaisukkojen paluu (Return of the Paupers) seminar (in Finnish) in the Kerimäki Church and parish home, starting at 1 pm. Experts from different fields shed light on the background and message of the wooden paupers, also reflected against modern times. Due to limited space, advance registration is required (see contact information below).

27 July: Concert where internationally acclaimed Finnish bass singer Sami Luttinen and pianist Henri Sigfridsson perform comfort music from the Napoleonic Wars consistent with the theme (e.g. Schubert, Liszt and Hummel).

24 August: Cinematic evening featuring the award-winning film Vaivaisukon morsian (The Wooden Pauper's Bride) from 1944, directed by Toivo Särkkä).

A book titled Vaivaisukkojen paluu (Return of the Paupers, in Finnish), edited by the curator Otso Kantokorpi and published by Maahenki, will be released in connection with the exhibition. It contains several articles reflecting on wooden paupers from different perspectives and the recent documentation of all our known wooden paupers carried out by photographer Aki Paavola.

Further information and seminar registration:

Otso Kantokorpi, curator
+358 (0)45-1188508
otso.kantokorpi@hotmail.com






Pelastakaa Vaivaisukot ry (Save the Wooden Paupers):


Seppo Seitsalo, professor, Chair of the Association
tel. + 358 (0)400-203405
seppo.seitsalo@orton.fi

Sirpa Viljanen, liaison manager, vice chair of the association
tel. +358 (0)50-5364235
sirpa.viljanen@orton.fi

Ville Vauhkonen, pastor, treasurer of association
+358 (0)40-5464582
ville.vauhkonen@helsinki.fi

Otso Kantokorpi, critic, curator of exhibiton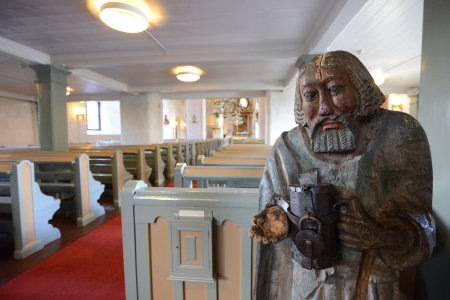 Wooden Pauper in Hauho. The oldest in Finland (17th century). Picture: Aki Paavola.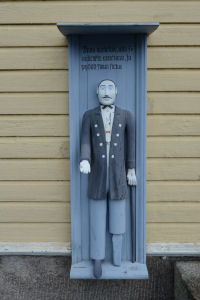 Wooden Pauper in Kurikka.
Picture: Aki Paavola.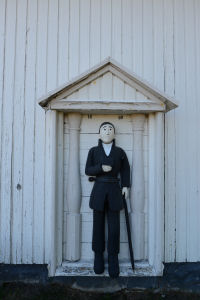 Wooden Pauper in Kauhajärvi.
Picture: Aki Paavola.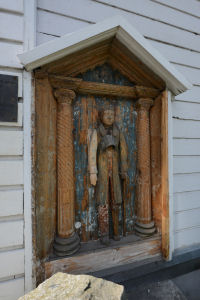 Wooden Pauper in Lapua.
Picture: Aki Paavola.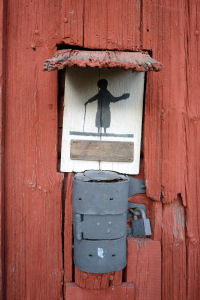 Wooden Pauper in Irjanne.
Picture: Aki Paavola.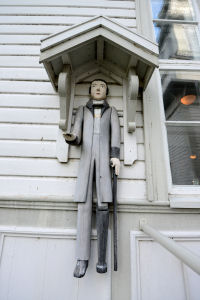 Wooden Pauper in Alajärvi.
Picture: Aki Paavola.